Toroidal current transformer
ELEQ manufactures and delivers a total program of toroidal current transformers. The, own-designed, types are very easy to construct (tailor-made) and defined by own calculations. According to the specifications of the customers.
Toroidal current transformers (bushing type) are not mounted in standard casings, but are provided with tape finish. Toroidal current transformers of this type are suited for use in high voltage and medium voltage installations, provided the user himself looks after the insulation for this voltage.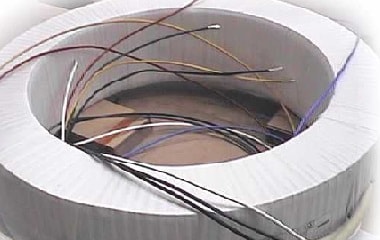 Besides these standard designs many specialties can be manufactured, for example special sized measuring or protective current transformers according to foreign recommendations or for use in liquid or gas.
Due to the simple construction of this type of transformer it is possible to manufacture these in any desired dimension, up to 1200 mm outside diameter, 200 kg weight and 400 mm height. The winding-ends of the transformer can be delivered at any desired length and marking. An earth connection for the magnetic core is available on request. Transformers for use in transformer oil or SF6 gas can be delivered, as well as for use in clophen or silicon oil.
The standard ELEQ current transformers are built in conformity with IEC. Designs conforming to other standards (ANSI, BS, VDE) can be supplied on request.